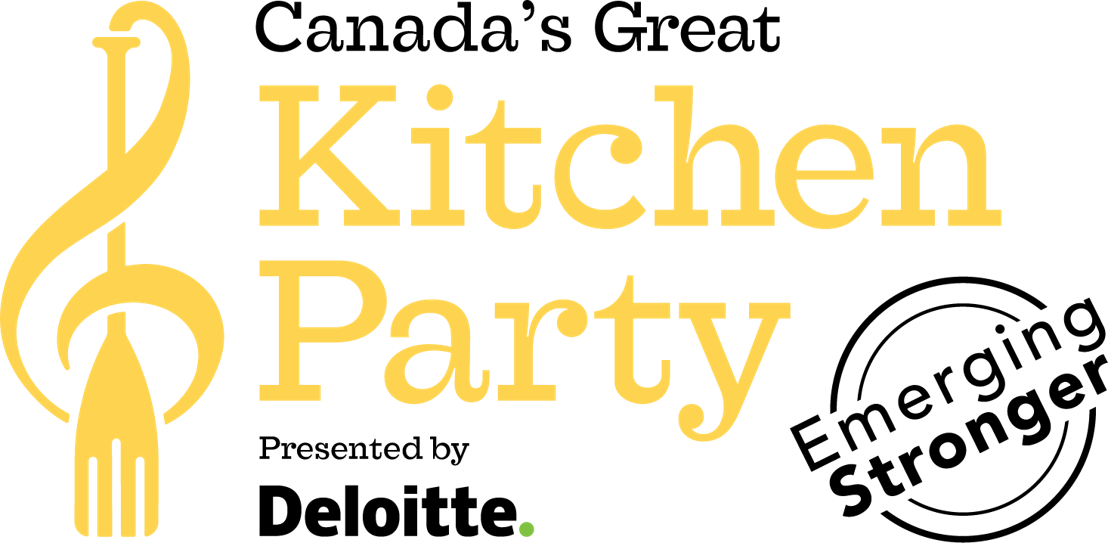 "For fifteen years we have been staging large events in thirteen cities across Canada and have raised close to 17 million dollars for charities. Our pivot this year, to intimate dinners in homes or private settings and an online show with over 20 amazing Canadian musicians, is being very well received," said Kitchen Party Co-Founder Karen Blair. "Our vision in 2020 is to support the Canadian culinary community, Canadian musicians and our three chosen charities - all who have been greatly impacted because of the pandemic. These are challenging times. The evenings will bring some joy and hope into people's homes as we celebrate Canadian resilience and a renewed shared hope and commitment for a better Canada"
From October 22 to October 30, five virtual events will take place across Canada, where participants choose a ready to serve 3-course meal prepared by one of the competing chefs, and enjoy a virtual show by legendary Canadian performers. Curated by Jim Cuddy of Blue Rodeo, the show will feature acts from Ed Robertson, Serena Ryder, Alan Doyle, Barney Bentall, Johnny Reid, Whitehorse, Eagle and Hawk, William Prince, Anne Lindsay, Danny Michel, Terra Lightfoot, Gord Bamford, Joel Plaskett and many more! It will also include cameo appearances from Rick Mercer, Chris Hadfield, Tessa Virtue, Sacha and more.
"MusiCounts believes all students should have access to the life-changing benefits of music education. MusiCounts will continue to play a critical role in helping schools across Canada innovate and restructure in order to be more sustainable and viable, both in person and remotely, said Kristy Fletcher, Executive Director, MusiCounts. "Thank you to all the artists involved in this virtual event for inspiring the next generation of musicians, and to Canada's Great Kitchen Party for your continued support of MusiCounts!"
Order a meal and the show or just the show! Find out more about these events here, and purchase your tickets here.
Key Dates
Ontario: Thursday, October 22, 2020 competition in Toronto & Ottawa
Alberta: Friday, October 23, 2020 competition in Calgary & Edmonton
Atlantic Canada: Saturday, October 24, 2020 competition in Halifax, Moncton & St. John's
British Columbia: Thursday, October 29, 2020 competition in Vancouver, Victoria & Kelowna
Saskatchewan/Manitoba: Friday, October 30, 2020 competition in Saskatoon, Regina & Winnipeg
-30-
Canada's Great Kitchen Party:
Canada's Great Kitchen Party is a social enterprise dedicated to "Building a Better Canada" through the elevation and celebration of Canadian excellence through food, sport and music. Staged in thirteen cities across the country, each of the five events incorporate regional culinary competitions by Canada's best chefs and entertainment by some of Canada's greatest musicians. In 2020, participants are gathering in homes or private settings according to provincial guidelines. The events are in support of three charities: MusiCounts, Community Food Centres Canada and B2ten.
MusiCounts:
MusiCounts, Canada's music education charity associated with CARAS and the JUNO Awards is keeping music alive in schools and communities across Canada by putting musical instruments into the hands of children that need them most. MusiCounts' mission is to ensure that youth in Canada have access to music programs through their schools and communities. MusiCounts celebrates musical excellence and achieves its mission through its Band Aid Program, the MusiCounts TD Community Music Program, the MusiCounts Teacher of the Year Award, MusiCounts Inspired Minds Ambassador Award, Scholarships and other music education initiatives.
MusiCounts is funded by many of Canada's most dedicated individuals and corporate citizens including and especially The Leadership Circle, TD Bank Group, Bell Media, SiriusXM Canada, the Slaight Family Foundation, Canada's Great Kitchen Party, and The London JUNO Host Committee. MusiCounts has been supported since inception by Sony Music Entertainment Canada Inc., Universal Music Canada, Warner Music Canada Ltd., JUNO Songwriters' Circle and JUNO Cup. MusiCounts was established in 1997 and has awarded over $14,000,000 in support of music education in Canada. These funds have benefitted over 1,200 schools and communities, supported over 400 post-secondary music program graduates, and honoured 14 extraordinary music teachers and three MusiCounts ambassadors. Learn more at musicounts.ca.
B2ten:
B2ten exists to have a significant impact on sport in Canada by contributing to amateur sport and the greater good of society. B2ten provides optimal training and preparation services to elite amateur athletes by investing in the development of Canada's coaches and professional service providers; and developing a legacy of enhanced sport, play and well-being. Learn more at b2ten.com.
Community Food Centres Canada:
Community Food Centres Canada builds dynamic and responsive Community Food Centres and food programs that support people to eat well, connect with their neighbours and contribute, through advocacy and mutual support, to a more just and inclusive Canada. With our 200+ partners, we work to eradicate poverty, food insecurity and improve the health and well-being of low-income Canadians. Learn more at cfccanada.ca.
Mackenzie Vandenberg Public Relations And Promotions Coordinator, Strut Entertainment
Samantha Pickard President, Strut Entertainment