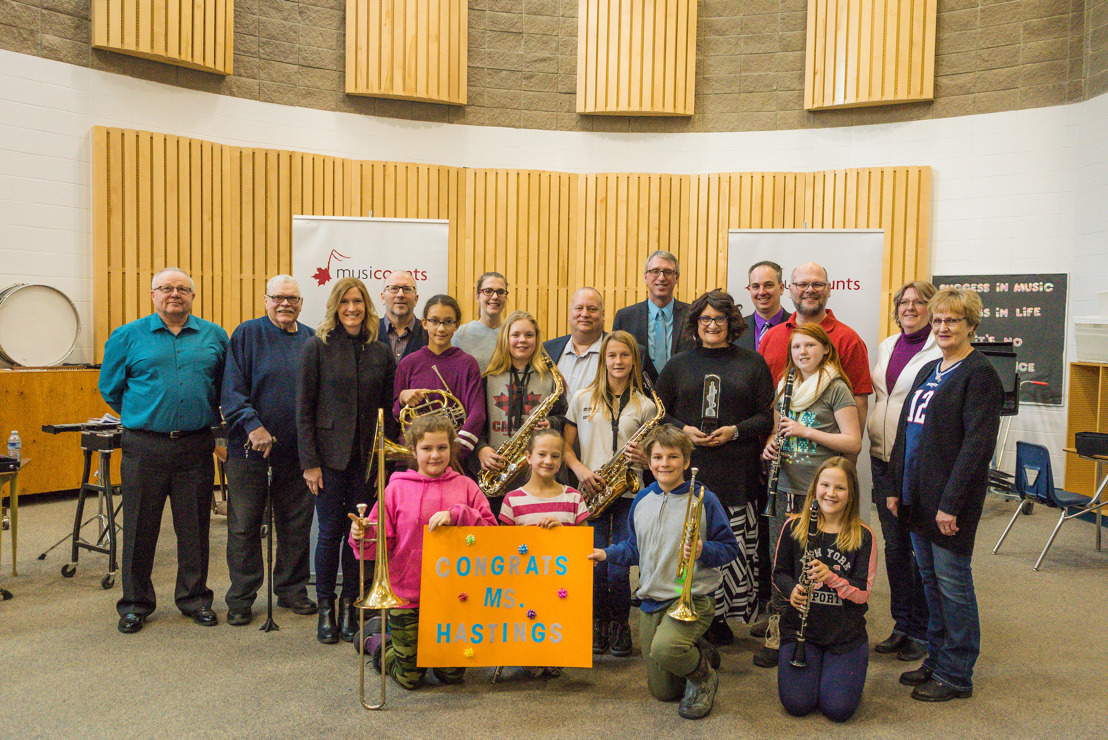 Kim Hastings Announced As 2019 MusiCounts Teacher Of The Year Award Recipient
Wednesday, February 13, 2019 — FOR IMMEDIATE RELEASE
TORONTO, ON – MusiCounts, Canada's leading music education charity, is pleased to announce that Kim Hastings of Pioneer Middle School in Rocky Mountain House, AB, is the recipient of the 2019 MusiCounts Teacher of the Year Award. Hastings was surprised in her classroom with the award by MusiCounts, current and former students, colleagues, friends and family.
"We are thrilled to present Kim Hastings with this year's MusiCounts Teacher of the Year Award, to recognize the impact she has made on both her students and the music education community," said Kristy Fletcher, Executive Director, MusiCounts. "She has worked tirelessly to make the music program at Pioneer Middle School accessible to all students, and her advocacy for music education has had a positive influence on curriculums at both the local and provincial level."
As the MusiCounts Teacher of the Year Award recipient, Kim will receive a $10,000 cash donation, a significant contribution to the Pioneer Middle School music program, a spectacular crystal statuette based on the JUNO Award design, and will be honoured by celebrated multi-platinum Award-winning artist Jann Arden at the JUNO Gala Dinner & Awards on March 16, as part of JUNO Week in London, ON.
"I am completely overwhelmed and humbled to receive this award. I love teaching middle school band and am passionate about the need to have music be a part of every child's education," said Kim Hastings. "I am blessed to have an amazing support system in the Rocky Mountain House and could not do what I do without my family."
A fierce advocate for music education in schools, Hastings has been a music teacher for over 30 years, 27 of them at Pioneer Middle School. She is a two-time winner of the Rocky Mountain House Mayor's Award for Contribution to the Arts, and her school bands and ensembles have won many accolades and awards at the regional, provincial and national levels.
Hastings works tirelessly to remove barriers that students might face while trying to access music education. She often waives fees, transports students to rehearsals and created a beginner band program to allow all students the chance to explore music. An impressive seventy-five percent of Pioneer Middle School students participate in her classes, some of whom have gone on to become music teachers themselves.
To download high-res photos from the surprise presentation please click here. (Photo Credit: Lindsay Loewen - Soulbox Photography)
-30-
About MusiCounts
MusiCounts, Canada's music education charity associated with CARAS and the JUNO Awards is keeping music alive in schools and communities across Canada by putting musical instruments into the hands of children that need them most. MusiCounts' mission is to ensure that youth in Canada have access to music programs through their schools and communities. MusiCounts celebrates musical excellence and achieves its mission through its Band Aid Program, the MusiCounts TD Community Music Program, the MusiCounts Teacher of the Year Award, MusiCounts Inspired Minds Ambassador Award, Scholarships and other music education initiatives.
MusiCounts is funded by many of Canada's most dedicated individuals and corporate citizens including and especially The Leadership Circle, TD Bank Group, Bell Media, SiriusXM Canada, the Slaight Family Foundation, Canada's Great Kitchen Party, and The London JUNO Host Committee. MusiCounts has been supported since inception by Sony Music Entertainment Canada Inc., Universal Music Canada, Warner Music Canada Ltd., JUNO Songwriters' Circle and JUNO Cup. MusiCounts was established in 1997, and has awarded over $11,000,000 in support of music education in Canada. These funds have benefitted over 1,000 schools and communities, supported over 350 post-secondary music program graduates, and honoured 13 extraordinary music teachers and two MusiCounts ambassadors.
Laura Steen Public Relations And Promotions Manager, Strut Entertainment