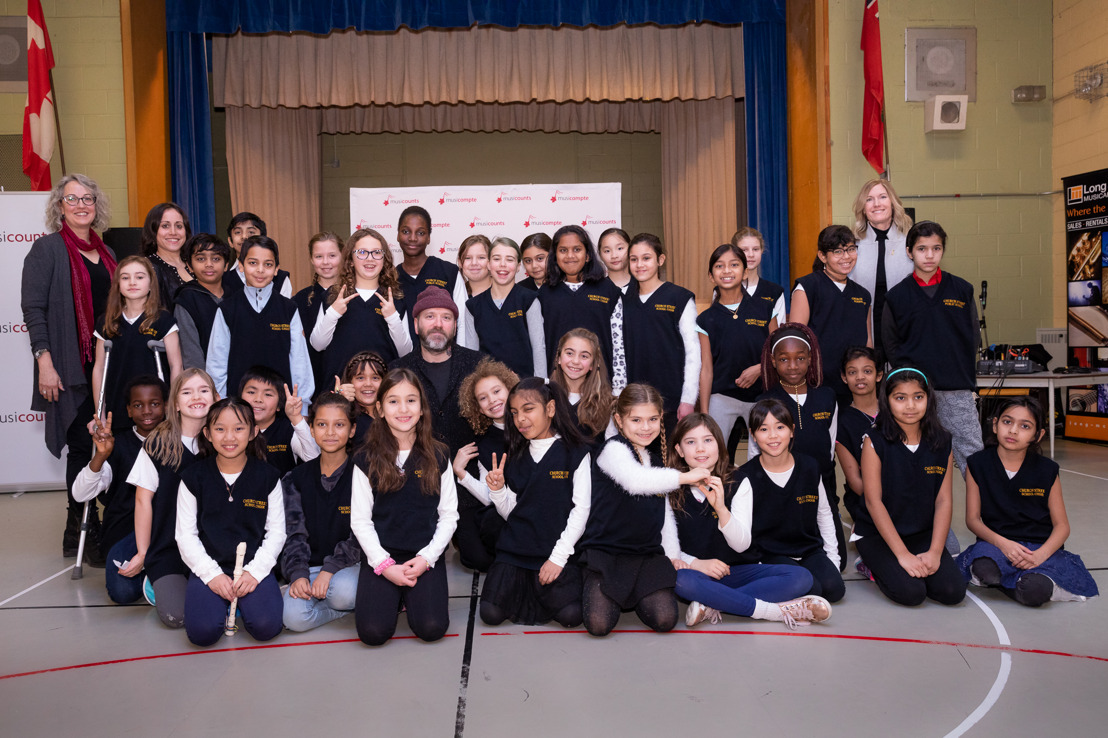 Multi-Platinum Artist City and Colour Joins MusiCounts to Surprise Toronto School
Friday, December 7, 2018 — FOR IMMEDIATE RELEASE
TORONTO, ON – Today, multi-platinum selling City and Colour, acclaimed singer, songwriter, and performer Dallas Green, joined MusiCounts to surprise the students of Church Street Jr. Public School in Toronto. Green performed a special acoustic set for the students to celebrate the $10,000 MusiCounts Band Aid Program instrument grant the school received this year. Green also had the opportunity to visit the music class and see the impact the instruments have had on the school program firsthand.
"Thanks to City and Colour's ongoing support of MusiCounts, generations of students at schools across Canada will get to experience the incredible benefits of music," said Kristy Fletcher, Executive Director, MusiCounts. "It was wonderful to see students at Church St. Jr. Public School using their new instruments, and it was inspiring for them to hear about Dallas' own music education journey."
"It was an honour to play for the kids today and see the instruments in action," said Dallas Green, City and Colour. "The first time I played in front of an audience was when I was in elementary school so I felt right at home today."
A continued supporter of MusiCounts, Green's latest album Guide Me Back Home was recorded during 2017's sold-out "An Evening with City and Colour - Solo" Canadian tour. Green worked with Plus1 to collect $1 from each ticket sold during the tour to benefit MusiCounts. In the same spirit, $1 from the sale of each Guide Me Back Home album worldwide will also be donated to MusiCounts.
Church Street Jr. Public School music students also had the chance to perform for Green and the delighted auditorium as part of the celebration. Nearly half of the students at the school are new Canadians or refugees who have a primary language other than English. The new instrument grant received this year has allowed the music program to continue to flourish and will be a unifying language for all students for years to come.
**To download hi-res images from the MusiCounts Band Aid Program celebration click here (Photo credit: Brendan Albert)
-30-
About City and Colour
City and Colour, the moniker of singer-songwriter Dallas Green, is undeniably one of the biggest groundswell stories to emerge from Canada. Over the course of five studio albums, Green has compiled a canon ripe with songs born of adoration and devotion amassing a legion of fans worldwide and garnering him 3 JUNOs, including two SONGWRITER OF THE YEAR awards, plus 3 Double Platinum, 1 Platinum, and 1 Gold certification. Green's collaboration with international superstar Alecia Moore (aka P!nk) titled You+Me earned him another Platinum-certified #1 record, alongside the four Platinum-certified studio albums Green released as part of Alexisonfire. City and Colour's last studio album If I Should Go Before You debuted at #1, his third consecutive chart-topper in Canada. Green's latest offering, an intimate live collection titled Guide Me Back Home, is a beautifully recorded and meticulously curated album recorded during his sold-out 2017 Canadian solo tour.
About MusiCounts
MusiCounts, Canada's music education charity associated with CARAS and the JUNO Awards is keeping music alive in schools and communities across Canada by putting musical instruments into the hands of children that need them most. MusiCounts' mission is to ensure that youth in Canada have access to music programs through their schools and communities. MusiCounts celebrates musical excellence and achieves its mission through its Band Aid Program, the MusiCounts TD Community Music Program, the MusiCounts Teacher of the Year Award, MusiCounts Inspired Minds Ambassador Award, Scholarships and other music education initiatives.
MusiCounts is funded by many of Canada's most dedicated individuals and corporate citizens including and especially The Leadership Circle, TD Bank Group, Bell Media, SiriusXM Canada, the Slaight Family Foundation, Canada's Great Kitchen Party, and The London JUNO Host Committee. MusiCounts has been supported since inception by Sony Music Entertainment Canada Inc., Universal Music Canada, Warner Music Canada Ltd., JUNO Songwriters' Circle and JUNO Cup. MusiCounts was established in 1997, and has awarded over $11,000,000 in support of music education in Canada. These funds have benefitted over 1,000 schools and communities, supported over 350 post-secondary music program graduates, and honoured 13 extraordinary music teachers and two MusiCounts ambassadors.
Laura Steen Public Relations and Promotions Manager, Strut Entertainment