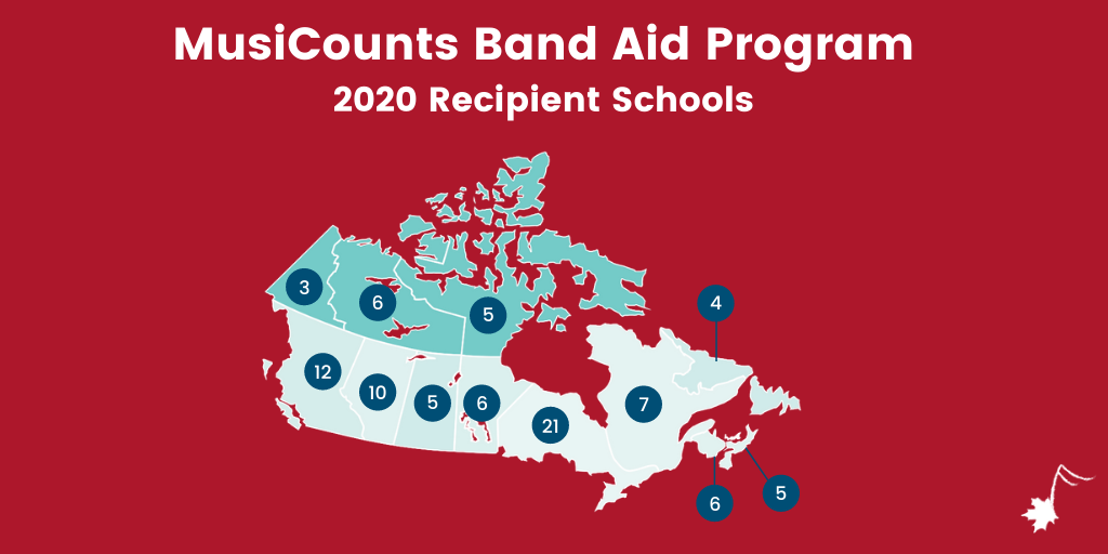 MusiCounts Band Aid Program Awards $900,000 in Musical Instruments to 90 Schools Nationwide
Wednesday, February 26, 2020 — Toronto, ON – Today MusiCounts, Canada's leading music education charity, is pleased to announce that $900,000 in musical instruments and equipment will be distributed to 90 schools across Canada through the MusiCounts Band Aid Program. The MusiCounts Band Aid Program provides up to $15,000 worth of musical instruments and equipment to schools in need. These instruments will enable schools to grow their existing music programs or help schools build a brand new music program for students.
This year, the roster of recipient schools is the most regionally diverse yet, with an unprecedented number of schools supported in the Territories, the Atlantic provinces, and the Western provinces. The MusiCounts Band Aid Program is also proud to equip schools with traditional instruments that will enable youth to celebrate and explore their cultural identity. Some schools will also receive adaptive musical instruments, allowing for students with exceptionalities to participate in music class.
"MusiCounts is proud to support 90 recipient schools this year - congratulations to all the music programs!" said Kristy Fletcher, Executive Director, MusiCounts. "However, there is still a lot of work to be done, and reading through many applications we received this year was heartbreaking. Whether schools have no instruments at all, or are struggling with collections of instruments that are in disrepair; students deserve to experience the benefits of music education in their school."
70% of 2020 recipient schools currently receive $500 or less for their music program, meaning $15,000 in equipment via the MusiCounts Band Aid Program is the equivalent of 30 years of typical funding all at once. Each year, the need for musical instruments in schools grows, and applications to the MusiCounts Band Aid Program continue to sharply increase. In 2020 MusiCounts is only able to help 1 in 7 schools that applied to receive support.
JUNO award-winners and MusiCounts supporters, Walk Off The Earth, discuss the importance of music education in this video, and help announce the 2020 MusiCounts Band Aid Program recipients. Watch the full video here.
To help more students discover the possibilities that music education can bring, donate at https://www.musicounts.ca/donate/.
For the full list of the 2020 MusiCounts Band Aid Program recipient schools, click here.
| | |
| --- | --- |
| Alberta | 10 |
| British Columbia | 12 |
| Manitoba | 6 |
| New Brunswick | 6 |
| Newfoundland & Labrador | 4 |
| Nova Scotia | 5 |
| Northwest Territories | 6 |
| Nunavut | 5 |
| Ontario | 21 |
| Quebec | 7 |
| Saskatchewan | 5 |
| Yukon | 3 |
-30-
About MusiCounts
MusiCounts, Canada's music education charity associated with CARAS and the JUNO Awards is keeping music alive in schools and communities across Canada by putting musical instruments into the hands of children that need them most. MusiCounts' mission is to ensure that youth in Canada have access to music programs through their schools and communities. MusiCounts celebrates musical excellence and achieves its mission through its Band Aid Program, the MusiCounts TD Community Music Program, the MusiCounts Teacher of the Year Award, MusiCounts Inspired Minds Ambassador Award, Scholarships and other music education initiatives.
MusiCounts is funded by many of Canada's most dedicated individuals and corporate citizens including and especially The Leadership Circle, TD Bank Group, Bell Media, SiriusXM Canada, the Slaight Family Foundation, Canada's Great Kitchen Party, and The London JUNO Host Committee. MusiCounts has been supported since inception by Sony Music Entertainment Canada Inc., Universal Music Canada, Warner Music Canada Ltd., JUNO Songwriters' Circle and JUNO Cup. MusiCounts was established in 1997 and has awarded over $14,000,000 in support of music education in Canada. These funds have benefitted over 1,200 schools and communities, supported over 400 post-secondary music program graduates, and honoured 14 extraordinary music teachers and three MusiCounts ambassadors.
Samantha Pickard President, Strut Entertainment