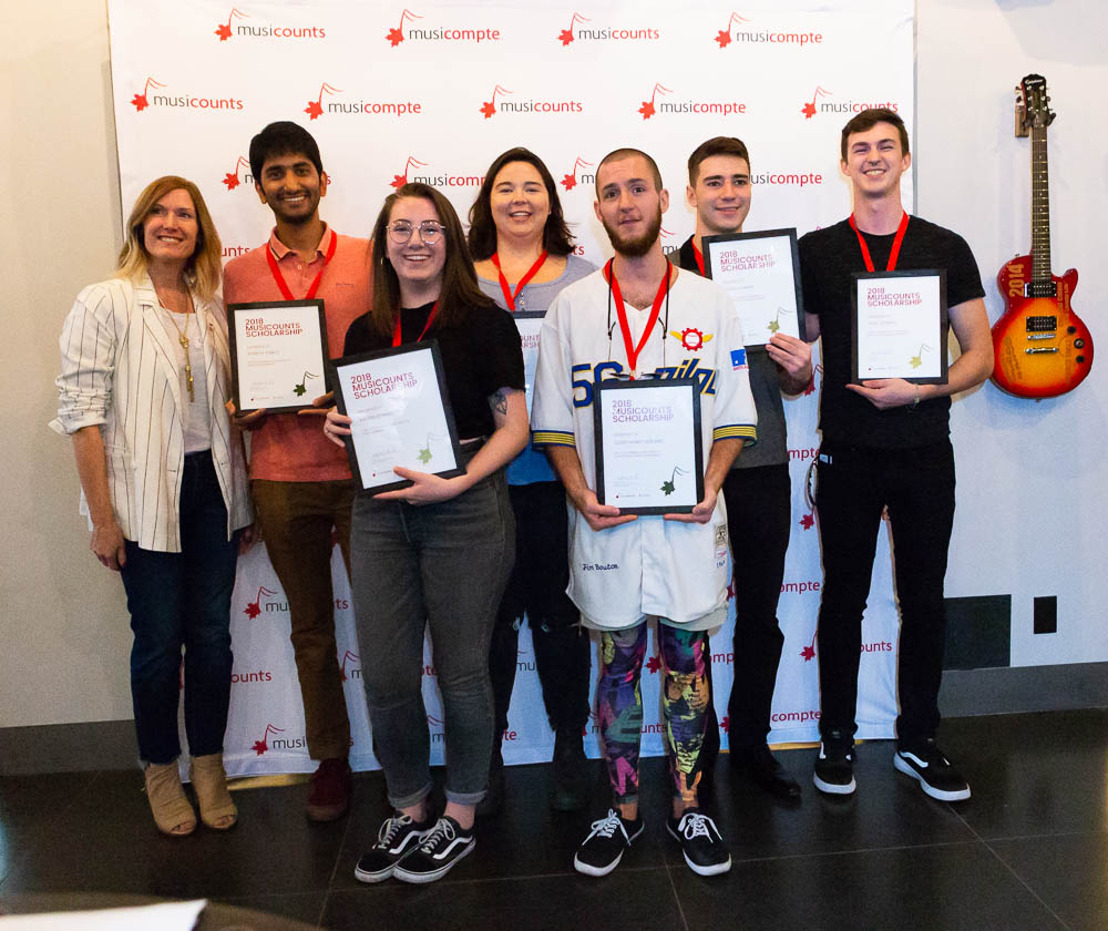 MusiCounts Celebrates 2018 Scholarship Recipients in Toronto
Monday, October 1, 2018 — TORONTO, ON – From September 24 - 28, Canada's leading music education charity, MusiCounts, hosted the 2018 recipients of the MusiCounts Scholarship presented by The RBC Foundation in Toronto. Launched this year, the MusiCounts Scholarship recognizes post-secondary students who demonstrate excellence, display a commitment to music in their community and show a consistently high level of achievement in their careers to date. The six recipients from across Canada were treated to tours of SiriusXM studios, iconic venue Roy Thomson Hall, Roland Canada, record label Dine Alone Records, plus info sessions at eOne Music, Coalition Music and Spotify and several music industry workshops.
"The goal of the MusiCounts Scholarship is to help launch the careers of these amazing students," said Kristy Fletcher, Executive Director, MusiCounts. "With the support of the RBC Foundation we were excited to give recipients access to music industry leaders and a week of networking opportunities. Thank you to everyone who lent their time and expertise to the MusiCounts Scholarship experience."
In addition to a $4,000 financial award, the recipients were flown to Toronto for a five-day mentoring and networking experience to help establish their careers in music. The students had the chance to attend multiple networking events with notable music mentors including, Allan Reid, President & CEO, CARAS, JUNO Award-winning recording engineer John 'Beetle' Bailey, Nathan Wiszniak, Head of Canada, Artist and Label Marketing, Spotify, Jennifer Hyland, Sr. Manager of Music Licensing / TV & Film Sync, Universal Music Canada, Samantha Pickard, President, Strut Entertainment and many more.
The 2018 MusiCounts Scholarship recipients presented by The RBC Foundation are:
Jenna Bjornson, Fanshawe College - Ottawa, ON
Agneya Chikte, Humber College - Toronto, ON
Kassia Edwards, Nimbus School of Recording and Media - Vancouver, BC
Julien Henry-Leblanc, Musitechnic – Montreal, QC
Sergei Kofman, Wilfred Laurier University – Toronto, ON
Jack Thomas, Nimbus School of Recording and Media - Vancouver, BC
To learn more about the recipients click here.
To download hi-res images, click here. (photo credit: Trish Cassling)
- 30 -

About MusiCounts

MusiCounts, Canada's music education charity associated with CARAS and the JUNO Awards is keeping music alive in schools and communities across Canada by putting musical instruments into the hands of children that need them most. MusiCounts' mission is to ensure that youth in Canada have access to music programs through their schools and communities. MusiCounts celebrates musical excellence and achieves its mission through the MusiCounts Band Aid Program, the MusiCounts TD Community Music Program, the MusiCounts Teacher of the Year Award, MusiCounts Inspired Minds Ambassador Award, scholarships and other music education initiatives.
MusiCounts is funded by many of Canada's most dedicated corporate citizens including and especially CCMA's, TD Bank Group, Bell Media, SiriusXM Canada, the Slaight Family Foundation, Music Canada, Vista Radio, and The Hot Topic Foundation. MusiCounts has been supported since inception by Sony Music Entertainment Canada Inc., Universal Music Canada, Warner Music Canada Ltd., JUNO Songwriters' Circle and JUNO Cup. MusiCounts was established in 1997 and has awarded nearly $11,000,000 in support of music education in Canada. These funds have benefitted over 1,000 schools and communities, supported over 350 post-secondary music program graduates, and honoured 13 extraordinary music teachers and two MusiCounts ambassadors.
About The RBC Foundation
MusiCounts is supported by the RBC Foundation's Emerging Artists Project. The RBC Emerging Artists Project is a multi-year funding commitment dedicated to the development of emerging artists through mentoring programs, education, and providing access and exposure to new audiences or facilitating named RBC awards. Since 2003, RBC's investments in arts organizations have exceeded $72 million and since 2015, over 8,000 artists have been supported through these programs.
Laura Steen Public Relations and Promotions Manager, Strut Entertainment