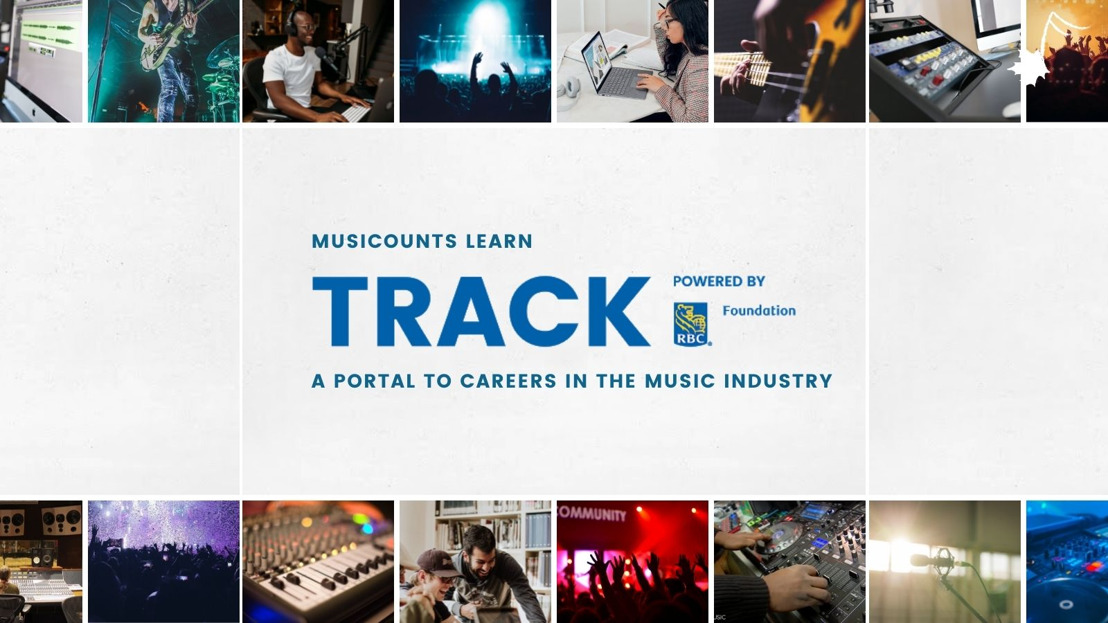 MusiCounts Launches Music Industry Careers Learning Hub for High School Students
Tuesday, June 1, 2021 — Toronto, ON - MusiCounts, Canada's music education charity, is proud to announce the MusiCounts Learn TRACK Program, powered by a donation from the RBC Foundation through the RBC Emerging Artists Project: an online learning hub that exposes high school students to the scope of career possibilities in the music industry, beyond performance. Launched today, the MusiCounts Learn TRACK Program is a series of free, on-demand video resources created by a range of music industry professionals in career areas including the artist team, live music, and music dissemination and monetization. The program aims to spark curiosity about music industry career possibilities and to break down barriers to entering the industry that young people may face. The videos can be accessed at musicounts.ca/en/programs/musicounts-learn/custom-resources/track/.
"The music industry can seem impenetrable for a high-schooler interested in getting a foot in the door to one of the country's more impactful and exciting industries. The MusiCounts Learn TRACK Program aims to help kids open that door and let them peek inside so they can become the next leaders of music industry professionals," said Kristy Fletcher, Executive Director of MusiCounts. "As the music education charity associated with the Canadian Academy of Recording Arts and Sciences and the JUNO Awards, MusiCounts knows that successes in the Canadian music industry are inherently connected to success in the music classrooms across the country."
RBC has a longstanding commitment to the arts. The RBC Emerging Artists Project supports organizations that provide the best opportunity to advance an artist's career trajectory in genres such as visual arts, music, theatre, performance, literature and film. Since 2015, over 24,000 alumni have been supported by the RBC Emerging Artists Project through RBC Foundation donations benefiting hundreds of arts organizations across Canada, totaling more than $8 million annually.
"Getting ahead in the music industry has always been challenging. COVID-19 has compounded those challenges by eliminating opportunities for live performances, and traditional audience exposure," said Mark Beckles, Vice-President, Social Impact and Innovation at RBC. "Young emerging musicians across Canada continue to inspire us with their creativity, resilience, and commitment to their craft. We are proud to support them through the MusiCounts Learn TRACK program and look forward to seeing the advancement of their music careers in the years ahead."
In dialogue with music educators and emerging professionals in the music industry, MusiCounts identified that there is a substantial gap between what happens in the music classroom and what happens in the music industry; conversations about how the music industry works--and the careers that are available therein--are not commonplace in most high school and post-secondary music programs. MusiCounts Learn TRACK will play a direct role in building a stronger and more sustainable music industry in Canada, from the ground up.
"When I was getting started in the music industry, I wish I'd known that touring careers were even an option," said Jen Ochej, Freelance Tour Manager (Lights, Jessie Reyez, Ria Mae, etc). Ochej is one of the nine industry professionals submitting content for the TRACK program. Nick Farkas, SVP, Evenko and contributor of the Venue & Festival Operations module, said "when I was getting started in the music business, I wish I'd known that there was a music business."
Each industry professional presents several videos exploring and explaining their career area, including what a typical day looks like, how they got started in their role, and what young people should know about their particular career area. The first two video modules - Artist Team and Live Music - were launched today with videos featuring:
● Erin Benjamin (President/CEO, Canadian Live Music Association)
● Jamelia Campbell (Manager, Account Management and Marketing, The Orchard)
● Jen Ochej (Tour Manager, Freelance - Lights, Jessie Reyez, Ria Mae, etc)
● Laura Wilson-Lewis (Associate Lawyer, Taylor Oballa Murray Leyland LLP)
● Matt Maw (Director & Lead Artist Manager, Red Music Rising)
● Nick Farkas (SVP, Evenko)
● Rachel Cragg (Director of A&R, Nettwerk Music Group)
● Rena Kozak (FOH Engineer, Freelance)
● Stefanie Purificati (Agent, APA Canada)
The TRACK Program is the latest initiative under MusiCounts Learn, a program that creates innovative learning resources for teachers and students, and facilitates important national dialogue about music education. The next video module - Song Dissemination and Monetization will launch over the summer, as will a Teacher Resource Guide to support educators in leveraging this content in the classroom. Interested students or educators are encouraged to visit musicounts.ca and sign up for the MusiCounts newsletter for updates.
-30-
Samantha Pickard President, Strut Entertainment