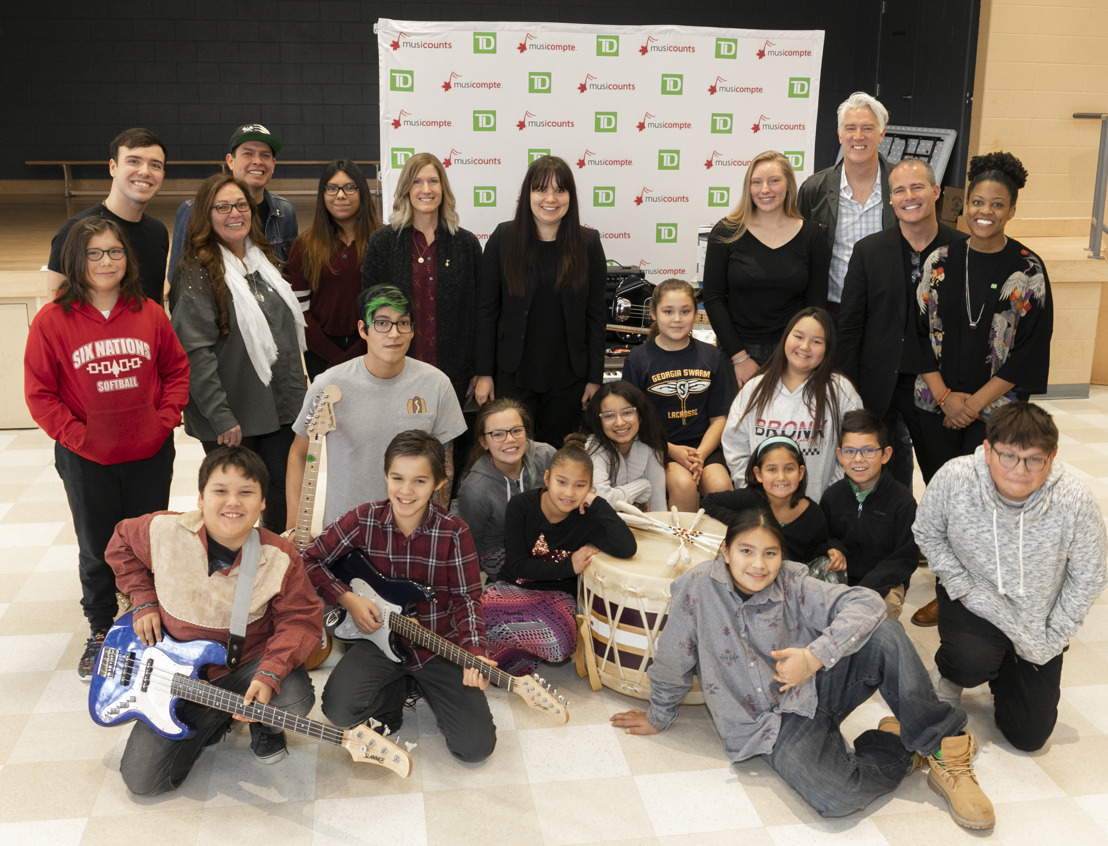 2018 MusiCounts TD Community Music Program Recipients Announced
Wednesday, November 14, 2018 — FOR IMMEDIATE RELEASE
TORONTO, ON– Today MusiCounts, Canada's leading music education charity, hosted a celebration with JUNO Award-winning artist Derek Miller, to announce the 2018 MusiCounts TD Community Music Program recipients at Music For The Spirit in Ohsweken, ON on the Six Nations Grand River Reserve. A total of 30 community music programs from across Canada, including Music For The Spirit, will be receiving $500,000 in musical instruments and equipment, benefitting over 3,000 participants this year.
"Music has the power to transform communities and empower the next generation of creative thinkers, musicians and artists," said Kristy Fletcher, Executive Director, MusiCounts. "Thank you to TD Bank Group for supporting MusiCounts and helping us give instruments and equipment to community music programs in need, impacting generations of youth. Congratulations to all the 2018 recipient programs from across Canada!"
"Music has the power to unite us and helps build a sense of community based on shared experiences. Through The Ready Commitment, our global corporate citizenship platform, we're proud to partner with MusiCounts to enrich lives through music. We're thrilled that to date over 15,000 youth have experienced the joy of music through instruments provided by the MusiCounts TD Community Music Program, and we're honoured to be in Ohsweken today celebrating all of the 2018 recipients." said Valérie Picher, Associate Vice President, Community Relations, TD Bank Group.
The event featured a performance of "Someone Call An Angel Down" from Miller who is also a mentor for Music For The Spirit, the students also sang renditions of "Where Is My Mind?" (Pixies), "Riptide" (Vance Joy), "Wagon Wheel" (Darius Rucker) and there was an instrument unveiling at the event. Community youth and all attendees were invited to join a collaborative song and dance circle to close out the celebration. Additionally, several 2018 recipient programs from across the country were highlighted at the event.
"It's really awesome to be a part of Music For The Spirit, mentor the kids, show them something new and give them a jump start into music. Having the instruments from MusiCounts and TD will help the youth continue to develop and it gives the whole community a boost," said Derek Miller, JUNO Award-winning artist.
Music For the Spirit is a grassroots, youth-lead program focusing on learning keyboard, ukulele, guitar, drums and vocals. The programming includes Indigenous visual arts and Indigenous instrument-making workshops. Many youth in the community do not have access to musical instruments through other means, and the new instruments provided via the MusiCounts TD Community Music Program will mean more youth are able to experience the benefits of music.
The MusiCounts TD Community Music Program provides musical instrument and equipment grants up to $25,000 for after-school programs and other community non-profit organizations, that have great potential yet need funding to ensure their sustained growth. To-date the program has provided over $2.2 million in instruments and equipment to 125 programs nationwide. In 2017, TD Bank Group committed an additional 1.875 million to MusiCounts over three years.
The week of November 19, each day MusiCounts will showcase a recipient program from across the country at MusiCounts.ca and highlight how new instruments will positively impact the program and community. Visit MusiCounts.ca to meet the recipients.
To download hi-res images, click here. (photo credit: Barry Roden)
2018 MusiCounts TD Community Music Program recipients:

ALBERTA
Sankofa Arts and Music Foundation (Calgary)
iHuman Youth Society - Music Program (Edmonton)

BRITISH COLUMBIA
Saint James Music Academy (Vancouver)
Richmond Music School Society - Outreach Violin Classes (Richmond)

MANITOBA
West Broadway Youth Outreach Music Program (Winnipeg)
Manitoba Conservatory of Music & Arts - Sharing Music! (Winnipeg)

NEW BRUNSWICK
New Brunswick Youth Orchestra - Sistema New Brunswick (Tracadie)
Charlotte Street Arts Centre - Fredericton Girls Rock Camp (Fredericton)

NEWFOUNDLAND & LABRADOR
Choices for Youth Music Program (St. John's)

ONTARIO
Orillia Youth Center (Orillia)
East Ends Arts - The Music Project Toronto (East York)
The Hammer Band - From Violence to Violins (Toronto)
Rainbow Songs Foundation (Toronto)
Boys and Girls Club of Ottawa Music Studio
ArtsCanU Circle - Attawapiskat
Music for the Spirit
Music Society of Chatham Kent - After School Program (Chatham)
CultureLink Settlement and Community Services - Nai Children's Choir (Toronto)
The Governing Council of The Salvation Army - North York Temple Corps School of Music (North York)
The Aeolian Hall Musical Arts Association - El Sistema Aeolian (London)
El Sistema Grey Bruce (The Big Sound) - (Owen Sound)
Dixon Hall Neighbourhood Services Music School (Toronto)
Discovery Through the Arts - Youth Advantage Community Outreach (East York)
Ball4All Sports Initiatives - Beats, Balls and Rhymes (Guelph)

QUEBEC
À deux mains / Head & Hands - Jeunesse 2000 Music Studio (Montreal)
Repaire jeunesse Dawson / Dawson Music Studio (Montreal)
La Ruche Musicale / The Music Hive (Verdun)

SASKATCHEWAN
The AIM (Ability in Me) Program - Early Learning Programs (Saskatoon)

YUKON
Skookum Jim Friendship Center - Splintered Craft (Whitehorse)
The Heart of Riverdale Community Centre Society School of Music (Whitehorse)
-30-
About MusiCounts
MusiCounts, Canada's music education charity associated with CARAS and the JUNO Awards is keeping music alive in schools and communities across Canada by putting musical instruments into the hands of children that need them most. MusiCounts' mission is to ensure that youth in Canada have access to music programs through their schools and communities. MusiCounts celebrates musical excellence and achieves its mission through the MusiCounts Band Aid Program, the MusiCounts TD Community Music Program, the MusiCounts Teacher of the Year Award, MusiCounts Inspired Minds Ambassador Award, scholarships and other music education initiatives.

MusiCounts is funded by many of Canada's most dedicated corporate citizens including and especially TD Bank Group, Bell Media, SiriusXM Canada, the Slaight Family Foundation, Music Canada, Vista Radio, and The Hot Topic Foundation. MusiCounts has been supported since inception by Sony Music Entertainment Canada Inc., Universal Music Canada, Warner Music Canada Ltd., JUNO Songwriters' Circle and JUNO Cup. MusiCounts was established in 1997 and has awarded over $11,000,000 in support of music education in Canada. These funds have benefitted over 1,000 schools and communities, supported over 350 post-secondary music program graduates, and honoured 13 extraordinary music teachers and two MusiCounts ambassadors.
About TD Global Corporate Citizenship
TD has a long-standing commitment to enriching the lives of its customers, colleagues and communities. In March 2018, TD launched The Ready Commitment, a new multi-year program to help individuals and communities prosper. As part of The Ready Commitment, TD targets CDN $1 billion (US $775 million) in total by 2030 towards community giving in four areas critical to opening doors for an inclusive tomorrow – Financial Security, a more Vibrant Planet, Connected Communities and Better Health. Through The Ready Commitment, TD's aspiration is to link business, products, services, and community giving to help people feel more confident - not just about their finances, but about their future and their ability to achieve their personal goals in a changing world. For further information, visit td.com/thereadycommitment.
About Derek Miller
Two-time JUNO winning singer/songwriter/guitarist Derek Miller from Six Nations of the Grand River is a journeyman musician with eclectic taste and a knack for guitar-oriented roots-inflected rock with a pop sensibility. With his unique take on roots rock, and soul-stirring blues, Derek Miller is a force of musical nature.​

With 17 albums to his credit, Miller has shared a stage with artists such as Blood, Sweat & Tears, George Thorogood, Smokey Robinson and The Neville Brothers. Canada's Olympic Committee, wanting an artist that reflected Canada's roots, hired Miller to rock the crowds alongside Eva Avila and Nikki Yanofsky at the Closing Ceremonies of the Vancouver 2010 Winter Olympics.​

In addition to recording with Willie Nelson, Buffy Sainte-Marie and Daniel Lanois, among many other talented artists across the globe, Derek has also recorded for the Smithsonian Institution's National Museum of the American Indian, resulting in the 2016 JUNO-nominated album Rumble: A Tribute To Native Music Icons. Most recently, Buffy asked the guitarist to play on her 2015 Polaris prize and JUNO-winning album Power In The Bloo.
Laura Steen Public Relations and Promotions Manager, Strut Entertainment