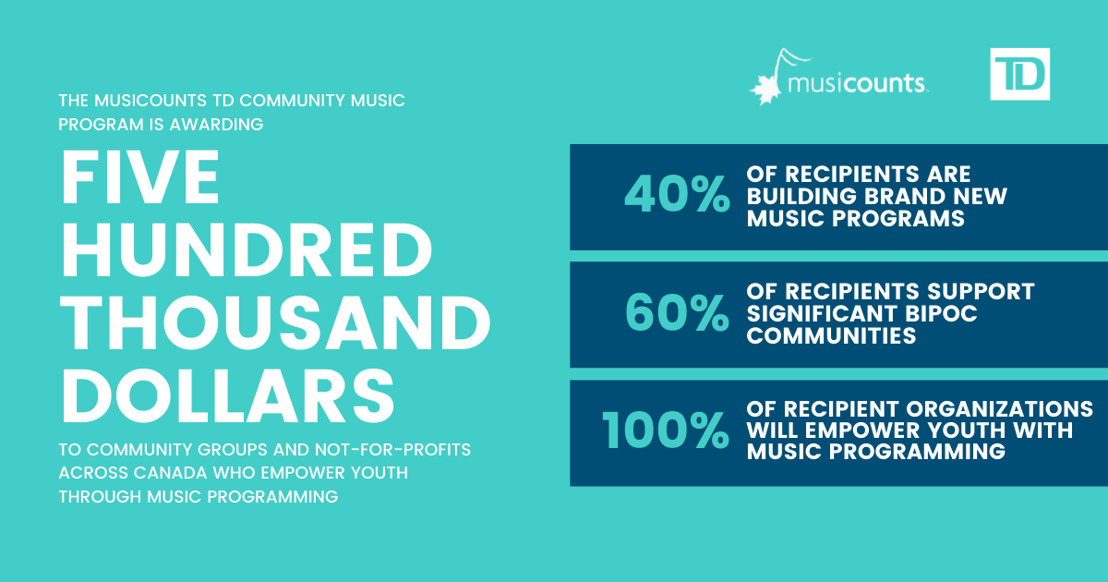 $500,000 in Musical Instruments Awarded to 33 Community Organizations Across Canada
2021 MusiCounts TD Community Music Program Recipients Announced
Monday, September 27, 2021 — FOR IMMEDIATE RELEASE
Toronto, ON - MusiCounts, Canada's music education charity, is thrilled to announce that $500,000 worth of musical instruments, equipment, and resources are being allocated to 33 community organizations across Canada through the MusiCounts TD Community Music Program. JUNO Award winner, JP Saxe made the announcement on MusiCounts' social media channels, watch here.
The MusiCounts TD Community Music Program provides grants of up to $25,000 for musical instruments, equipment, and resources to community centres, after-school programs, and other community non-profit organizations. To date, the program has supported 247 community organizations across Canada and thousands of youth participants with over $3.6 million in musical instruments, resources, and equipment.
Making music within communities helps young people connect with their identity: this year more than 60% of the organizations receiving instrument grants support significant populations of BIPOC (Black, Indigenous, and People of Colour) youth. The African Friendship Society in Vancouver, BC will use its MusiCounts TD Community Music Program grant to purchase instruments for the new Sounds of Africa program, which will teach a variety of traditional African music styles and music history to Black youth in order to build community and celebrate identity.
In 2021, over 40% of the organizations receiving grants did not have any existing musical instruments, so without MusiCounts' support they would not be able to offer youth access to music education in their community. The Norman Wells Community Library, on the edge of the Arctic Circle in Norman Wells, NT, will be using the funds to purchase guitars, ukuleles, keyboards, hand drums, and fiddles for their program, which will be the first community music program in the area.
"The unprecedented volume of requests MusiCounts received for the MusiCounts TD Community Music Program this year demonstrates just how important it is for youth to make music within their communities," says MusiCounts Executive Director, Kristy Fletcher. "It's a way for young people to connect to their culture, to each other, and ultimately to themselves. On behalf of MusiCounts, congratulations to all of the community organizations receiving MusiCounts TD Community Music Program instrument grants this year, and thank you to TD for supporting this critical initiative."
Through the pandemic, finding ways to create a sense of community through music has been even more challenging for music instructors. TD has a long history of support for community music programs and festivals across Canada, and together with MusiCounts, is committed to bringing people together safely, encouraging sharing of each other's stories and amplifying voices that aren't always heard through music education.
More information on the MusiCounts TD Community Music Program is available here.
2021 MusiCounts TD Community Music Program recipients:
Alberta
High Level Native Friendship Centre, High Level, AB

Pacekids Programs, Calgary, AB
British Columbia
African Friendship Society, Vancouver, BC

Afro Van Connect Society, Vancouver, BC

Dze L K'ant Friendship Centre Society, Houston, BC

Ridge Meadows Association for Community Living, Maple Ridge, BC
Manitoba
African Communities of Manitoba Inc. (ACOMI), Winnipeg, MB

Graffiti Arts Programming Inc., Winnipeg, MB

Indigenous Family Centre Inc., Winnipeg, MB

Options Pathways & Transitions, Winnipeg, MB

Riverton & District Friendship Centre, Riverton, MB
New Brunswick
Battle of the Arts NB, Fredericton, NB

Boys and Girls Club of Greater Saint John, Saint John, NB
Newfoundland & Labrador
Easter Seals Newfoundland and Labrador Inc., St. John's, NL

MICG Recreation Dept, Makkovik, NL
Northwest Territories
Ingamo Hall Friendship Centre, Inuvik, NT

Norman Wells Community Library, Norman Wells, NT
Nova Scotia
Music In Communities Cooperative Ltd., Canning, NS

PAC Autism Nova Scotia Society (Autism Nova Scotia), Halifax, NS

St. George's YouthNet, Halifax, NS

Through the Years Day Care & Community Centre, Hubbards, NS
Nunavut
Iqaluit Music Society, Iqaluit, NU
Ontario
Afiwi Groove School, Ajax, ON

Canadian Foundation for the Prevention of Family Violence (operating as the PACT Urban Peace Program), Toronto, ON

Crouch Neighbourhood Resource Center, London, ON

Georgian Shores Elementary Concert Band, Midland, ON

The HopeWorks Connection, Toronto, ON

2-Spirited People of the 1st Nations, Toronto, ON
Quebec
Centre d'amitié autochtone de Lanaudière, Joliette, QC

Centre de pédiatrie sociale Coeur des Laurentides, Sainte-Agathe-des-Monts, QC
Saskatchewan
Kikinahk Friendship Centre Inc., La Ronge, SK

Mistawasis Nehiyawak Community Studio Program, Leask, SK
Yukon
Boys and Girls Club of Yukon, Whitehorse, YK
-30-
About MusiCounts
MusiCounts is Canada's music education charity associated with CARAS and the JUNO Awards. MusiCounts' vision is to ensure that all youth in Canada have access to music education through their schools and communities. This vision is realized through grant programs that invest directly into schools and communities across Canada that put musical instruments into the hands of kids who need them the most. Additionally, MusiCounts creates educational resources for teachers and students; empowers young people to pursue music as a career; and celebrates teachers, artists, and philanthropists who champion music education.
MusiCounts is funded by many of Canada's most dedicated individuals and corporate citizens including and especially The MusiCounts Leadership Circle, TD Bank Group, Bell Media, SiriusXM Canada, the Slaight Family Foundation, RBC, Canada's Great Kitchen Party, The Canadian Scholarship Trust Foundation, TikTok, and The Hot Topic Foundation. MusiCounts has been supported since its inception by Sony Music Entertainment Canada Inc., Universal Music Canada, Warner Music Canada Ltd., and JUNO Awards events like the JUNO Songwriters' Circle and JUNO Cup. MusiCounts was established in 1997, and has awarded more than $15,270,000 in support of music education in Canada. These funds have benefitted over 1,450 schools and communities, supported over 280 post-secondary music program graduates, and honoured 16 extraordinary music teachers and four MusiCounts Inspired Minds Ambassadors.
Ashley Sperling Director, Marketing & Brand Partnerships, Strut Entertainment
Samantha Pickard President, Strut Entertainment