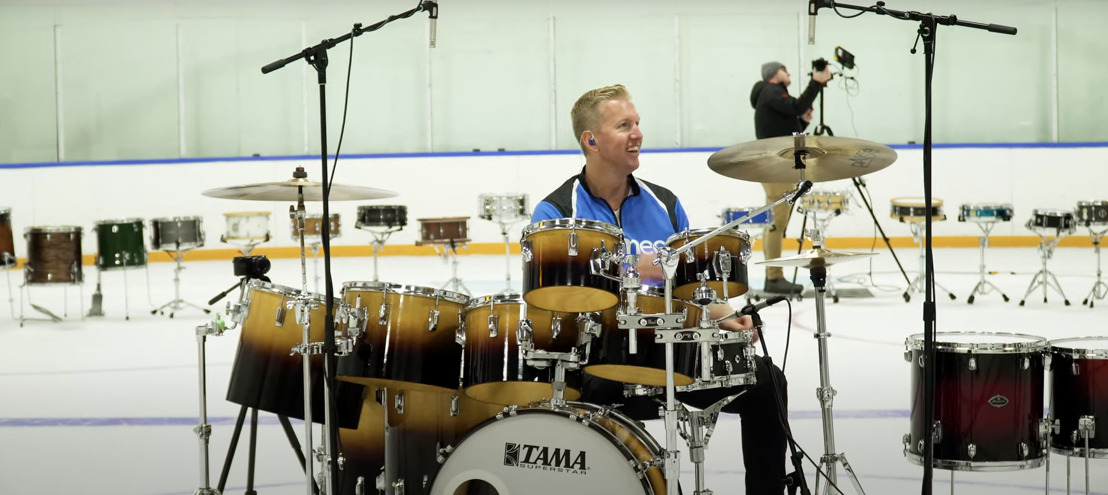 Drummer plays world's longest drum fill with 125+ drums to support MusiCounts charity
Musora to raise funds for music education across Canada
Friday, October 1, 2021 — FOR IMMEDIATE RELEASE
TORONTO, ON - Jared Falk, Founder and CEO of Musora Media, is playing the world's longest drum fill, set to the Surfaris' song "Wipeout" to help raise funds for MusiCounts, Canada's music education charity. Falk is jamming on a rig of over 125 drums to the iconic surf rock track as a follow up to his 99+ drum performance of Phil Collins' "In the Air Tonight". Musora, home to education platforms Drumeo, Singeo, Guitareo, and Pianote, is calling for donations to the charity and matching donations up to $50,000. Click here to donate.
"When I was a kid I had access to a drum set and lessons. It set me on the path to creating Drumeo and sharing the gift of music with the world," said Jared Falk. "But I know not all kids are so lucky, and many won't ever get the chance to experience the life-changing power of playing an instrument. It's why I'm so excited to be partnering with MusiCounts through their Band Aid Program to help provide instruments for schools and introduce a whole new generation to music. Hopefully, we can inspire the next generation of drummers."
"We're so pleased to be working with Musora, an organization that shares our belief that music empowers youth to be their best selves," said Kristy Fletcher, Executive Director of MusiCounts. "Jared and the Musora team see every day what's possible when young people can experience music by learning an instrument, and together we're going to help more kids access that life-changing opportunity through the MusiCounts Band Aid Program."
Funds raised through the initiative will support the MusiCounts Band Aid Program, which awards grants of up to $15,000 to schools for musical instruments, equipment, and resources to help keep music education accessible, sustainable, and inclusive across Canada. In 2021, MusiCounts awarded $1M to 95 schools across the country in every province and territory. Applications for the MusiCounts Band Aid Program are open until November 25, and the application is available here.
-30-
About MusiCounts
MusiCounts is Canada's music education charity associated with CARAS and the JUNO Awards. MusiCounts' vision is to ensure that all youth in Canada have access to music education through their schools and communities. This vision is realized through grant programs that invest directly into schools and communities across Canada that put musical instruments into the hands of kids who need them the most. Additionally, MusiCounts creates educational resources for teachers and students; empowers young people to pursue music as a career; and celebrates teachers, artists, and philanthropists who champion music education. MusiCounts is funded by many of Canada's most dedicated individuals, events, and corporate citizens. Since 1997 MusiCounts has awarded over $15,700,000 in support of music education in Canada. These funds have benefitted over 1,450 schools and communities, supported over 400 post-secondary music program graduates, and honoured 16 extraordinary music teachers and five MusiCounts Inspired Mind ambassadors.
About Musora
Musora is the leader in online music education, with more than 15 years experience, 100 million video views, and 187,000 active students. We make it easier to play the songs you love by combining great teachers, organized lessons, and practical technology with student-centered communities. At Musora, we have two simple goals: to create more musicians and keep them playing longer. Because we believe the world's a better place when it's filled with music.
Ashley Sperling Director, Marketing & Brand Partnerships, Strut Entertainment
Samantha Pickard President, Strut Entertainment